Some Americans opt to settle for Biden during 2020 presidential election
To avoid former President Donald Trump from entering a second term, some Americans ranging from being politically on the left to the right settle for Joe Biden. Americans settled for Biden by voting for him in the 2020 presidential election and are planning to hold him accountable throughout his presidency.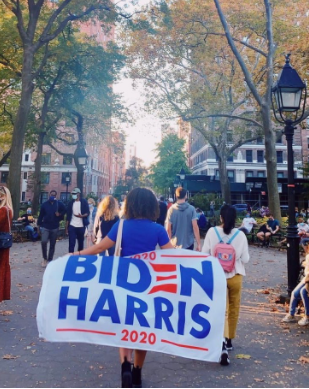 Choosing to vote for Democratic candidate Joe Biden in the 2020 presidential election instead of not voting at all, some Americans are settling for Biden to keep President Donald Trump from being voted into a second presidential term.
Seattle resident Olivia Anne and junior Lydia Burt said that they felt disappointed when Biden was selected to be the democratic candidate for the 2020 presidential election.
Anne said that she would have preferred Senator Bernie Sanders to be the Democratic candidate, but that she voted for Biden because he is the "best chance we have to move forward."
Burt said that settling for Biden was picking between the "lesser of two evils" and that Biden is the "lesser evil."
"I don't like Biden," Burt said. "I refuse to wholeheartedly stand for someone/something I don't believe in."
Manhattan College senior Nina Nuñez said that she recognizes that Biden is "not perfect" and that he has "many flaws in his political career."
"However, it is necessary for the future of our country to settle for Biden/Harris in the 2020 election," Nuñez said.
Elementary school teacher Erin Callahan said they wanted Elizabeth Warren over Biden to be the Democratic candidate.
Callahan said that due to misogyny, Warren wouldn't have been voted for by some Americans because she would have been labeled as "aggressive" and "pushing her agenda," in comparison to her male counterparts.
According to Callahan, Biden was able to appeal to many Americans from his experience of being the former vice president.
Burt said that they still participated in campaigning for Biden during the presidential election.
"I spoke to as many people as I could, educating to the best of my ability and reminding everyone that every vote counts," Burt said.
Not all people that settled for Biden are on the left side of the political spectrum.
Harleysville resident Kort Shickfus said that he leans more toward the right.
According to Schickfus, he wanted someone such as Senator Amy Klobuchar, U.S. Secretary of Transportation Pete Buttigieg, or Democrat Andrew Yang to run against Trump in the presidential election, but would be okay with "anyone who could beat Trump."
Schickfus said that he settled for Biden because he is very anti-Trump.
"Trump was decisive and destructive," Schickfus said.
According to Schickfus, Biden probably had the best chance of beating Trump.
Schickfus said that if someone farther to the left like Sanders ran against Trump, then Trump could have won.
Schickfus and Callahan said that one of the reasons why they didn't originally support Biden was because of his older age.
Callahan said that they don't see Biden as a two-term-president and that they worry about what can be caused by the instability of a one-term president.
Shickfus said that he wants someone with "more longevity" and that he doesn't see Biden filling out his first term as President.
When the votes for the presidential election were being counted and certified, Nuñez said that she was "extremely stressed."
"Watching the votes come in was a nail biter and I was constantly on edge," Nuñez said.
"I remember staying up all night keeping track of every vote," Burt said.
Regardless of political standing, Americans that settled for Biden felt similarly when Biden was elected President of the United States.
When Biden was officially confirmed President, Nuñez said that to say she was "ecstatic" would be an "understatement."
"I was not a huge Biden fan but to think of another four years in Trump's America was a genuine nightmare for me," Nuñez said.
Callahan and Schickfus said that they felt very relieved.
When it comes to the policies that Biden implemented as President, Burt said that they don't see him following through with all of his promises to ensure that he keeps the support of Republican voters.
Burt said that they also don't see Biden moving farther to the left because he's "too scared of being seen as radical."
On the other hand, Illinois resident Julian Morris said that she thinks that "bipartisanship is very much necessary, especially in a time of utterly catastrophic division".
"Biden has to appeal to all Americans," Morris said.
Anne said that she wants Biden to put in additional effort to make healthcare more available, while Schickfus said that he wants Biden to tax big corporations more and lessen the amount of taxes added to individual earnings because they are "too steep".
Regardless of political standing, many Americans who settled for Biden plan to hold him accountable throughout his presidency.
According to Anne, she will not "blindly follow and support" Biden.
"I will stand up for what's right," Anne said.
"If he does something that is not beneficial to the people, I will absolutely be critical of him," Nuñez said.