Souderton Super Snoozer: Alex Ace
With a reputation of being a few minutes late to class Alex Ace is predicted most likely to be late to graduation. Ace will go to America University majoring in political science.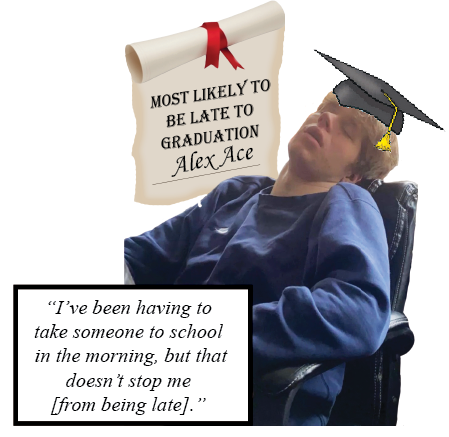 Due to being seen running into school late and having a reputation amongst his friends, senior Alex Ace wins the 2023 senior superlative for most likely to be late to graduation.
Ace knew his friends were voting for him but he believes "word spread" of him always being late.
"I knew that a lot of my friends voted for me because they know that I have trouble being on time with things and I'm guessing a lot of people from my classes that I'm late to in the morning also voted for me," Ace said.
According to Ace he usually allows 20-25 minutes for his morning routine which has not proven to be enough time for all the things he needs to accomplish.
"I have to get a shower in the morning, eat breakfast, do the morning routine, brush my teeth, wash my face," Ace said.
Despite his reputation Ace has been improving on his attendance as he has been driving someone else in.
"I haven't been as late recently because I've been having to take someone to school in the morning, but that doesn't stop me. Sometimes I get us both late because I leave the house at eight o'clock," Ace said.
After graduation Ace will be attending American University in Washington D.C. to study political science.
"I want to be a lawyer but you know, we'll see what the future holds," Ace said.
Ace hopes he will not be late to graduation and will try not to fall asleep and take a nap.
"I also have a twin sister and she's usually on time so I'm hoping that she forces me to also be early instead of late," Ace said.