Senior prom will be held at The Fuge with COVID-19 adjustments
After losing junior prom in 2020 due to the COVID-19 pandemic, the Class of 2021 is having a senior prom. Certain rules and guidelines have been put in place to meet COVID-19 regulations.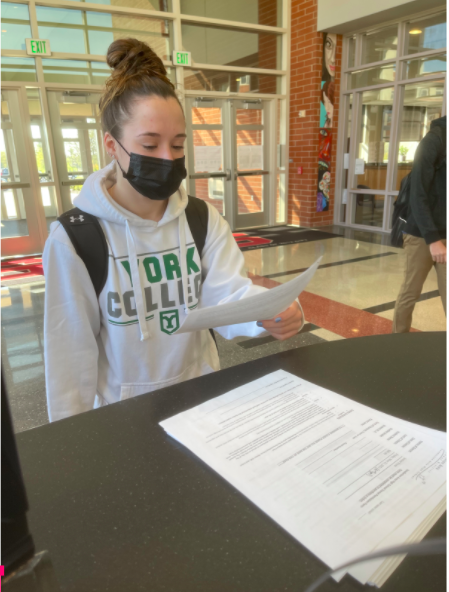 Through planning and problem solving, the student government was able to assure a spot for the senior prom to be held May 21.
In late March, the high school announced that senior prom will be occurring, despite doubt some people have had within the last few months.
"For a long time, the student government was told we were not going to have a prom and to pretty much forget the idea," student government member Erica King said. "After a lot of persistence from student government, we were able to [convince the] administration to allow us to host the celebration."
Administrators at the high school were not in favor of the idea of prom at first.
"In all truth and honesty… none of the administration at the high school wanted to have a prom," assistant principal Matt Haines said.
Some of the administrators were worried about having the prom because it would go against many COVID-19 safety measures.
"We felt that it was our responsibility to fall more in line with the social distancing guidelines even though that stunk for our kids and we hated that the social aspect would be taken away from students," Haines said.
As in past years, The Fuge will host the prom. The Fuge is located in Warminster.
"The senior class has contracted with The Fuge for the last couple senior proms. We generally make our decision about the venue over a year in advance," student government advisor Kristi Grandy said.
Students will be required to wear a mask the entire time, except when sitting down and eating.
The event will take place both indoors and outdoors as dancing will take place outside in the Fuge's pavilion while students still wear masks.
"They can house us outside so we can do it in a way that [follows] the social distance rule," Haines said. "Dinner will be inside, dancing and all other things will be outside underneath that pavilion."
According to Grandy, they have also discussed some other safety measures like having staff there to "serve students as they walk through the buffet line so individual students aren't touching the tongs and things."
A new addition to the permission form for this year is some of the COVID-19 safety measures that will take place before entering the event.
"The only difference and additional precaution would be [that] we've been encouraged by our bosses to do either screening or checking students for a negative test result, or possibly even testing kids before they go to prom. So those three things are very different in some regards," Haines said.
Students may not be required to have a COVID-19 test before prom based on if cases are rising or not around the time.
"If they deem the rates are high, they will require the documentation of a negative COVID test within two days of May 21, the event of the prom, or if rates are low we might just do basic symptom screening like temperature checks at the door," Grandy said.
A Keystone testing day happens to fall on the same day as prom, so this year students will not be required to go to school for the minimum three blocks, like it has been required in the past for dances.
"We're not going to be tracking attendance; it's just going to be a crazy day," Haines said.
Student government member Gina Smyth hopes the event runs smoothly and that attendees respect the rules.
"I am just really hoping that people are grateful enough for us being able to have something at all enough to respect the regulations," Smyth said.