Homecoming traditions return
By using creative thinking and problem solving, Souderton Student Council has had to adapt homecoming traditions to fit Covid-19 safety guidelines. Homecoming weekend took place from October 7th to 8th.
Bringing normalcy back to Souderton Highschool, Student Council hosted the homecoming football game and dance on October 8 and 9 by adhering to Covid-19 safety guidelines while maintaining classic homecoming traditions. 
Student council advisor Amy Tarlo recognizes that planning homecoming this year faced difficulties that had not been encountered in previous years.
"It is all outside this year so it's making it very different," Tarlo said. "We have had to change things because it's outside and of course we have the stress of the weather."
  According to Student Council President Molly Hendricks, moving the event outdoors has posed a challenge in figuring out where to have the event.
"We explored a few different options, but ultimately just came down to walking through the areas and seeing what felt logistically best," Hendricks said. "We decided on the black top near the concession."
There has also been an issue of time constraints on this year's festivities.
"[The] pep rally is a little shorter which is different for us and the dance is a little shorter which is different for us," Tarlo said.
In accordance with Covid-19 safety guidelines, the dance will be held outside with masks being optional, but welcome according to Tarlo.
"The kids will be outside, so being outside is a safety precaution," Tarlo said.
Hendricks feels that this year posed a challenge in that everything was started from the roots up as opposed to working off of a set frame like previous years. 
"The food is different. The environment is different. The decor is different," Hendricks said.
This change resulted in an opportunity for extra creativity and a new tone for homecoming.
"We went with a lot more bright colors instead of the traditional red and white fancy decor."
Hendricks believes that the unique location of the event will make it unforgettable. 
"I definitely think it makes the fact that it is outside more memorable. It has definitely been different than every other homecoming we have ever hosted," Hendricks said.
Across the school, anticipation for homecoming has been brewing for over a year. 
According to junior Anjolie Ware, this year's homecoming will indicate the mood for the year. 
"I feel like it's going to set the tone for a better start to the year and hopefully a more normal year," Ware said.
For some, the change of setting offers an exciting change of pace. Sophomore Ava Beskar believes it might even offer some benefits compared to other years.
"I think it will be cool to have it outside," sophomore Ava Beskar said. "Hopefully it won't be as hot as normal."
Student Council Vice President Rylee Bernhauser has felt the change of setting to offer an opportunity for creative thinking and problem solving.
"Because we are doing everything outside, we have needed to think of alternatives that are still going to give us that same homecoming feel," Bernhauser said. "We needed to create alternate options." 
According to Bernhauser, the student council is working to replicate a traditional homecoming, but outside.
"We are having a lot of neon lights outside to replicate how it would feel inside,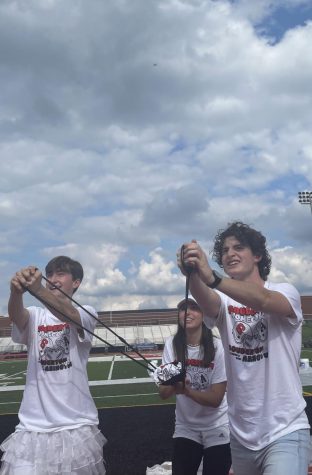 " Bernhauser said.
For junior Oisin Carolan, homecoming offers the start to the end of an era."I am excited that I am going to finish my high school career off with having homecoming," Carolan said. 
Carolan is particularly excited to finally be there with friends."I am so excited to dance with my besties and let loose after a long year and a half," Carolan said.
Carolan is most excited to see everyone's outfit.
"I really like to express myself through fashion and cannot wait to see everyone else doing the same."
Tarlo, Hendricks, and Bernhauser all hope that the hard planning pays off and the night is enjoyable and fun for all.