Finishing the year (water) guns blazing
As a last hurrah to finish out an unusual year, students banded together for one last game. Students experienced a sense of normalcy after having missed out on so much this year.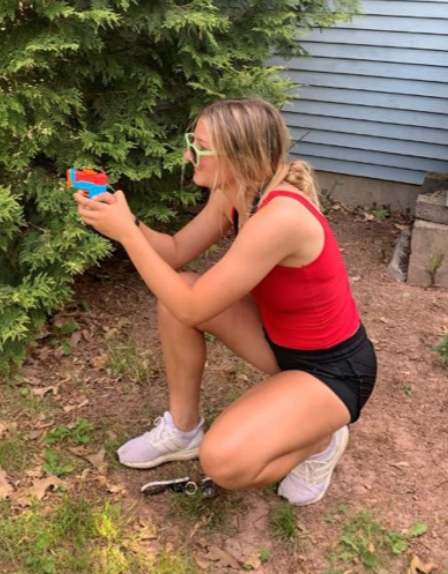 In an effort to bring everyone together one last time before graduation, seniors Olivia Andrade and Gianna Natale kickstarted senior assassin for Souderton seniors. Participants were kept on their toes, never knowing when they might be eliminated.
Senior assassin is a student-organized activity. While it does not always happen every year, the game has become popular in recent years at Souderton and other local schools like Pennridge High School.
The administrator, an anonymous third party, assigns all participants a target. During the first round, participants have two weeks to eliminate their target with either silly string or a water gun. If you get assasinated or fail to eliminate your target before the two weeks are up, you are out.
The game can get very competitive as the winner of senior assassin, the last one standing, wins not only bragging rights, but a pool of money from the 77 participants' $5 entry fee.
While some students may have originally joined in hopes of taking home the cash prize, most were excited just to be able to participate in a normal senior year activity with friends.
"I think especially this year it's something fun and normal that we could do. We missed out on a lot of things this year such as dances and things that you look forward to for your senior year," senior Olivia Schneider said. "This was something that made us get a sense of normalcy."
Senior assassin was also a great way for students to branch out and get to know different people before graduation.
"It definitely gets you out of your comfort zone, especially if you're paired with somebody you don't know too well," Andrade said. "Everyone just has fun with it and you start to connect with the whole senior class, not just your normal little friend group."
For some, no distance is too far or location too arbitrary to make an assassination as long as it follows the rules of the game posted on the official senior assassin instagram page.
Students would frequently follow their targets around or hide in bushes, hoping for a chance to nail their target and move on to the next round.
"I had someone come with me and we followed his car to Wawa. We waited for him to get out of his car and he never did," senior Lexi Krebs said.
Stakeouts outside of a target's house or work are a big part of the game.
"You have to be really committed to it and realise that you look like a complete stalker," Andrade said.
Senior Caroline Kelly enjoyed the thrill of camping outside of a targets house, waiting to make an assassination.
"I know that sounds creepy, but it was just like a fun stakeout. I felt like a little investigator," Kelly said. "That was definitely a fun part of it."
Players can check the soudyassasins2021 Instagram account for additional rules about when and where it is acceptable to eliminate targets and any additional updates.
All assassinations are to be filmed and sent to the Instagram page, as well.
These videos serve as proof of all assassinations as well as a source of a good laugh.
"I definitely like when they post the videos on Instagram. It's always super funny to see them," Kelly said.
Some students opted to form alliances with other participants to gather information about
their targets and to work together to get "kills."
Sometimes these "alliances" led to betrayals with participants just trying to get rid of the competition.
"You never know who to trust, but at the same time it's really fun," senior Jordan Zimmerman said.